LOOK WHAT'S NEW!
BREAKING NEWS…The wait is over
Pasta Too Natural Sauce is here!
Our newest selection continues our tradition of hand-selected ingredients, in addition to a natural bone broth, no added sugar and only 80 calories (per serving).
Look for it at your favorite grocery store, in all Giant Eagle and Market District stores (all markets), in addition to several other local grocery stores, or available for purchase in our online store.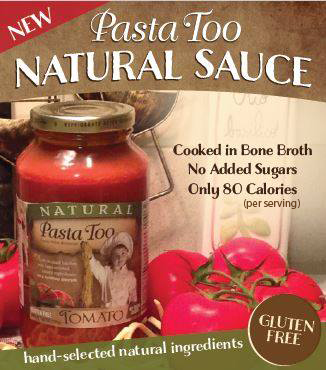 Some things are just Too Delicious and must be shared! Check out our monthly blog for new ideas to inspire the foodie in you.
PastAtOO
Try using one of our 3 savory sauces in your next meal! Thinking of using Pasta Too's Original Tomato Sauce tonight? Get playful with homemade pizza straight from your oven or grill! Green Olive Pizza with Ricotta Cheese Have fun making homemade pizzas for a simple dinner or party favorite finger food.  [...]
PastAtOO
Each year on June 2nd Italians celebrate La Festa della Repubblica, or Festival of the Republic. This national holiday commemorates the abolishment of the monarchy and a decision to operate as a parliamentary republic following the end of World War II.  With the demise of conflict, as well as fascism, [...]
PastAtOO
Risotto, a staple of northern Italian cuisine, is a short-grain rice dish with delightful versatility.  Using Arborio rice, it is most often cooked slowly by adding small amounts of hot chicken broth and is a dish that begs to be stirred with patience. The flavors arise from many areas of [...]