Try using one of our 3 savory sauces in your next meal!
Thinking of using Pasta Too's Vodka Sauce tonight? Tap into your inner chef and pump up the flavor of regular pasta!
SHRIMP PENNE WITH PEAS & PANCETTA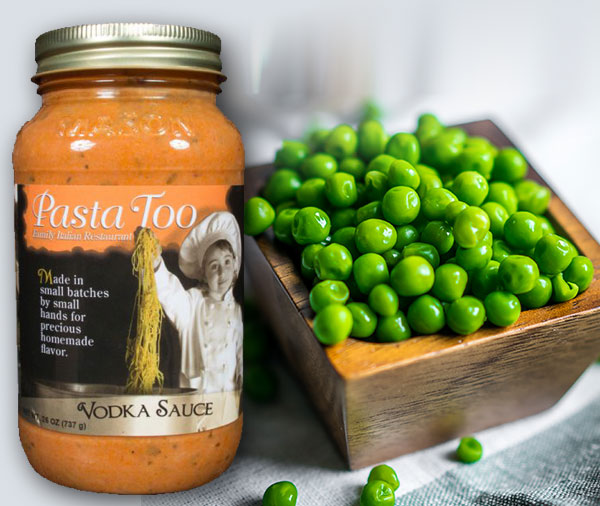 Set a stock pot of salted water to boil. Sauté 10-12 raw, deveined shrimp in a preheated pan with 1 Tbsp of olive oil and add 1 tsp of chopped garlic. When the shrimp are pink and no longer translucent (about 4 minutes) remove them to a plate and set aside. Use the same pan to add a ½ cup of chopped pancetta (Italian bacon) and sear until cooked. Set aside with the shrimp. Meanwhile, cook 1 pound of penne pasta according to the package directions. In the last few minutes of boiling, add a ½ cup of frozen peas and when done, strain as usual. Combine pasta, peas, shrimp and pancetta and slowly add Pasta Too Vodka sauce, gently mixing to combine over low heat. Let sit for 2 minutes to allow the flavors to marry.
Serve warm and swap out your regular parmesan cheese for a salty, grated Pecorino Romano. Enjoy!